I suspect I'm part magpie for I gravitate towards the shiny and sparkly, and am a self-confessed, jewellery junkie.
I recently bought a set of Stackers boxes from the UK, a flexible storage system which has transformed my life in jewellery. However, as I organized my collection in these new boxes, it struck me that much like fiction, my jewellery tells stories about my life and the people and places who've influenced me.  
Family
Some pieces were gifts from special people for special occasions.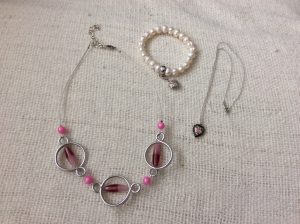 A little heart necklace from my grandparents for a long ago Christmas. A bracelet English Rose chose for me as a special Mother's Day gift, and a statement necklace from the sister of my heart for a milestone birthday.
Each time I wear one of these pieces, I'm reminded of its giver and their importance in my life.
Fashion
Like clothes, jewellery fashions come and go.
From a pearl and amethyst Victorian ring, to a 1920's Art Deco watch, and mid-twentieth century modern brooches, my jewellery box is a panorama of changing fashions through the years.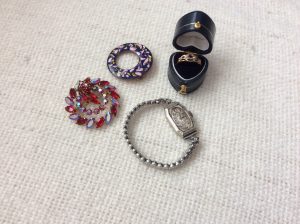 Some pieces I inherited while others I bought at flea markets and vintage jewellery stalls. For each piece, though, I imagine who once wore it and when, where and how.
Travel
When I travelled for my last day job, I often bought jewellery as a souvenir.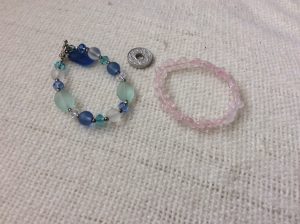 My blue and green beaded bracelet from the Cayman Islands evokes the magical colours of the Caribbean Sea, and the feeling of the warm tropical sun on my skin.
A floral bracelet in delicate pink glass takes me back to Hong Kong's bustling Yue Hwa department store, while a disc pendant replicating an ancient Malaysian coin transports me to a rain-soaked day in Kuala Lumpur.
Writing
Many of you know I mark writing milestones on a charm bracelet. However, I've also received jewellery for writing contest placements and to reflect special writing moments.
Fun flamingo bling for my 2013 Tampa Area Romance Writers (TARA) contest win, and a dragonfly pendant after my 2015 Romance Writers of America® Golden Heart® class became known as the "Dragonflies."
Jewellery for good causes  
Jewellery isn't only about personal adornment. Some of my pieces also support causes dear to my heart.
My key charm, which I wear as a pendant, benefits student bursaries at the University of Winnipeg, my alma mater.
A pair of tear-drop earrings, a gift from a dear friend, introduced me to Seeds of Peace, a program for teenagers from conflict zones designed to promote empathy and respect and foster cross-cultural communication.
Life, fiction and giving back
My jewellery is part of my life story. It even creeps into my fiction when I give heroines jewellery inspired by pieces I own or have admired.
And for those pieces that no longer fit my life? I'm donating some to a local initiative which raises funds to provide companionship to elderly people in need.
So the stories continue…