I used to write to you every year. I'd print a letter in crayon and ask my mom for an envelope which we'd address to you at the North Pole, H0H 0H0, Canada.
I'd include a greeting for Mrs. Claus and the reindeer. I'd tell you what I wanted for Christmas, and ask if you'd like mince pies or sugar cookies when you visited my house on Christmas Eve. Thanks to NORAD's Santa Tracker, I knew exactly where you'd be on that special night.
I used to visit you, too, in a big department store downtown.
The Christmas I was three, you brought me a doll named "Cuddles" and a crayon tin.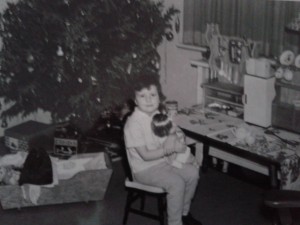 When I was seven, you brought me "Snowball," the cuddly dog toy who stood guard in a corner of my bedroom until I left for university.
Even when times were tough for my family, and money was tight, you always did your best to grant my Christmas wishes.
You've been part of Christmas no matter where I was. This year, back in Canada and closer to your North Pole home, I'm writing to thank you for granting my Christmas wishes early and in abundance.
You brought me the book deal that had been on my list for too many years to count. You also brought me a surprise present, my Golden Heart final, and with it, the gift of new friends.
You brought me a house with not only one porch but two. Can a pick-up truck and a dog be far behind?
But most of all, you brought me to a place that no matter where in the world I went, has always been "home."
Cuddles and Snowball are still part of my life, although Cuddles now wears a hat knit by Cousin Mary as a result of my early and short-lived venture into hair dressing.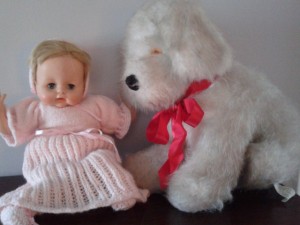 As for that crayon tin?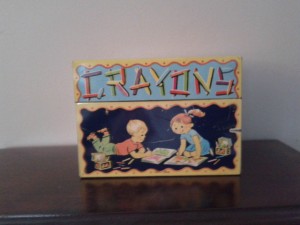 I've dusted it off and, if you have space in your sack, a box of Crayola would fit nicely in my stocking. It'd go with one of those adult colouring books that are everywhere this year. In fact, I've had my eye on this "Secret Garden" one…
The very best of the season to you, Santa, and also to my friends and blog readers.
May your Christmas wishes come true, and the spirit of Christmas fill your hearts and homes throughout the holidays and beyond.