I've unpacked many boxes of books in the last two months.
Books I brought back in my suitcase from the Romance Writers of America (RWA)® national conference. Books I shipped in cartons when I moved from the UK to Canada. And books in storage for fifteen years when I moved, at the time I thought temporarily, from Canada to the UK.
All these books have memories for, from earliest childhood, I've been a reader. I still remember the delight I felt with the first word I read. That word was owl, and I have a vivid memory of connecting the letters with the picture of a brown owl on my then favourite drinking cup.
Some of my most treasured books were gifts, or belonged to family and contain cherished inscriptions. Others are book sale or charity shop finds, with inscriptions which reference the original owner. For a bibliophile, the beautiful covers on some of these books make them works of art in their own right.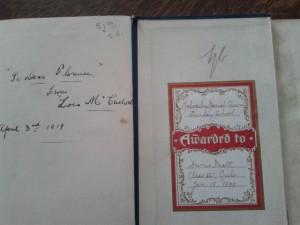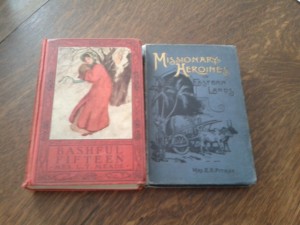 I have books signed by favourite authors, as well as books associated with hobbies, travel and various careers.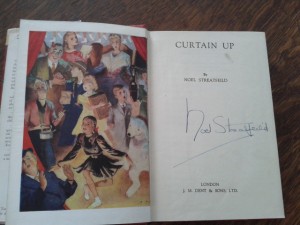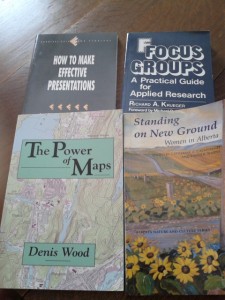 I buy books online and in book stores. When I'm on holiday, my husband and daughter steer me away from second-hand bookshops as they know I'm liable to disappear for an hour or more, and emerge with a bulging carrier bag.
My parents and grandparents read to me. I had a library card from an early age, and I usually received a book for Christmas and my birthday. But those alone didn't make me a reader. It was the other worlds, and people and places I discovered through books, that made me seek new books out, and is one of the reasons I still read now.
On my Kindle, I'm currently reading Beneath an Irish Sky by Isabella Connor. And, because I'm also attached to physical books, and read multiple titles at once, my bedside table holds three. Brown-Eyed Girl is a new contemporary romance by Lisa Kleypas, and it's on loan from my local library. Then there's a recent gift book, The Blessings of Family and Home: Inspiration from the Front Porch by Roy Lessin & Heather Solum, and an old favourite, The Lieutenant's Lady by Nebraska pioneer author Bess Streeter Aldrich.
Different formats, different authors, and very different book worlds to suit my different reading moods.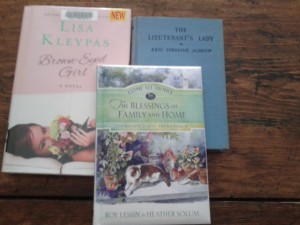 My curious mind wants to know. What made you a reader, and what are you currently reading?