Sometimes it seems anti-heroes are everywhere.
Many are in our workplaces, as the recent #DistractinglySexy Twitter campaign in response to sexism in science illustrates.
Anti-heroes also appear on public transport. Like the man in a suit and carrying a laptop bag who, without a word of apology, catapulted me into a pillar in his rush to catch a train.
Often, though, the anti-heroes of this world are more insidious. Under a veneer of good humour and charm, they lie and cheat, and bully and mock to assert power over others, and get their way. Or, they're passive and, without the courage of their convictions, abet or avoid rather than take a stand against injustice.
As a romance writer, I seek out the heroes of this world. The men who respect women and treat them as equals, and whom a heroine can depend on through good times and bad. Men who are kind, decent and honourable, but can kick butt when they need to. Men who are complex, and aren't afraid to show vulnerability.
These heroes are sexy too, and the kind of man a strong heroine wants to marry. Not because she needs a man to complete her, but because the hero complements the woman she is, and may one day become.
Father's Day, celebrated this Sunday, is a time to reflect on some of the heroic men I've known.
My dad, here as a young man, tops that list.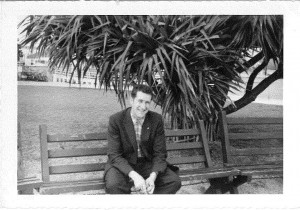 A faithful and loving husband to my mom for fifty years, he always put her well-being before his own.
He was also a good father. His belief in me was implicit, and his support unstinting. He was always there when I needed him, with a listening ear, wise counsel, or a shoulder to cry on. When I was six, and my teddy got left at home in the rush of packing for a family holiday, it was Dad who, without complaint, turned the car around, and drove several hours to retrieve my much-loved bear.
My father-in-law was also a faithful and loving husband and, even hours before his death, and slipping in and out of consciousness, his biggest concern was for his wife, then in the early stages of dementia.  
Not least, there's my Tech Guy. After twenty years together, he's still the man who starts phone calls to me with "Hi, gorgeous." He's been at my side through life tragedies which would have sent a lesser man running. And he's the man who shows our daughter, English Rose, what it means to be a husband and father.
Thank you, and Happy Father's Day, to the men who prove heroes exist outside of romance novels.
What makes a man a hero to you?