Sunday, 15th March, is Mothering Sunday in the UK.
For Christians, it falls on the fourth Sunday of Lent. Historically, it was when people attended their "mother" church, and domestic servants were given the day off to visit family.
Since I grew up in Canada where Mother's Day is celebrated in May, Mothering Sunday was part of learning about my new home when I moved to England. Although giving cards and flowers to mothers is similar in both places, the festivals have different origins.
As the mother of an English daughter, Mothering Sunday is one of the happiest days in the year. It's a chance to celebrate the bond we share, and how it enriches my life and, I hope, hers too.
Yet, it's also bitter sweet, for I remember not only my mother, but my grandmothers, and how their influence lives on through me, and my daughter, English Rose.
These wise women helped shape the person I am today. Their advice, from the funny to the profound, still comes to mind whenever the occasion arises.
Fashion: Never wear white shoes or carry a white handbag after Labour Day. 
Housekeeping: If you opened it, close it. If you turned it on, turn it off. If you got it out, put it away. An ordered home is a happy home.
Food: All things in moderation. Eating leftover birthday cake for breakfast is okay because cake has eggs and milk.
Finance: Make a budget and stick to it. A penny saved is a penny earned.
Manners: Good manners cost nothing, and never go out of style.
Consideration for others: Be as kind as you can, for you never know what burdens someone else is carrying.
Men and relationships: If you don't respect yourself, how can a man respect you? Flashy men come and go. Look for one who will wear well in the wash.
In troubled times: Stiffen your spine and keep going.
Love: Wherever you go, and wherever I am, I'll always love you and watch over you.
The Canadian penny is long gone, white shoes are worn year round and, despite some clutter, my home is generally a happy one.
However, in most cases, mother still knows best.
Did your mother or grandmother give advice you still remember?
Wishing mothers everywhere a Happy Mothering Sunday, with love and thanks.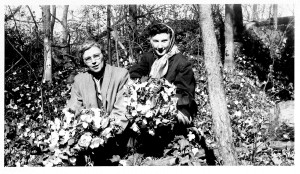 My grandma and my mom on a long ago Mother's Day
Find out more