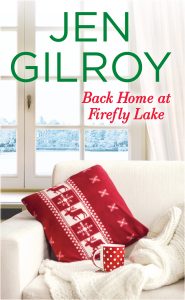 Back Home at Firefly Lake, the third book in my series of small-town romantic stories set in the fictional Firefly Lake, Vermont, is out in digital and mass-market paperback next Tuesday, December 5th (28th December for the paperback in the UK), and I'm excited about sharing it with you.  
It's the story of single mom Cat McGuire who returns to her small hometown where, as an awkward teen she never fit in. She doesn't expect to fall for her childhood crush, former pro-hockey player Luc Simard, now a grieving widower. In Firefly Lake, though, and with a little winter magic, Cat and Luc may just find second chances in life, as well as love.
As Publishers Weekly says: "When these two broken souls come together, magic happens."
Back Home at Firefly Lake is also a story of family and community relationships, and I enjoyed writing a secondary romance to give a sixty-something couple a happy ending of their own.
If you haven't read the other books in the series, don't worry because like The Cottage at Firefly Lake and Summer on Firefly Lake, Back Home at Firefly Lake also stands alone.
Books are a bit like children so I can't choose one that means more to me than the others, but Back Home at Firefly Lake has its own special place in my heart.
The awkward girl gets the cool guy
The heroine, Cat McGuire, is my tribute to all the bookish girls out there (like me) who spent their high school years in an awkward social wilderness—a world where Barbie always gets Ken and, especially if you grow up in a small community, your high school persona can follow you long into adulthood.
In Firefly Lake, hockey play Luc Simard "had been a god. The kind of guy who dated the pretty, popular girls." He'd never looked at Cat except as the quiet family friend who helped him pass chemistry.
As adults, though, Cat and Luc find they have more in common than they thought, and it's those unexpected similarities—as well as their vulnerabilities—that made both characters a joy to write.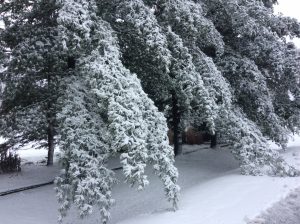 A winter wonderland
Back Home at Firefly Lake starts just after Christmas and most of the story takes place in the winter months.
As a Canadian, winter is part of my DNA so I incorporated some of my own favourite winter things into the book.
From ice skating on the frozen lake, to the stillness of the woods on a cold day, a winter carnival and more, Back Home at Firefly Lake celebrates everything that's special to me about a north country winter.
Mother-daughter relationships
As the heroine's mom tells her at one point in the story: "It's a dangerous business being a mom."
Although relationships between mothers and daughters run through all my books, this theme is particularly important—and meaningful to me—in Back Home at Firefly Lake.
The heroine, Cat, is a single mom to twelve-year-old Amy who is obsessed with ice hockey. While Cat wants Amy to realize her dreams, she's also frightened by where those dreams may take her and wants to keep her safe. And as Cat mothers Amy, she also builds a new and better relationship with her own mother.
Many of the feelings about mothering in this book were shaped by my experience as both mother and daughter—and the push and pull in that dynamic over time.
Subscriber giveaway*
As a small thank you to my blog subscribers, I have a signed paperback of Back Home at Firefly Lake up for grabs. Anyone who subscribes to my blog by Sunday, 3 December 2017 will be entered to win. I blog every two weeks about life and sometimes writing. If you aren't already a subscriber, you can sign up here.  
See & hear me on video
I've just made a video with my local Romance Writers of America chapter, Ottawa Romance Writers Association and stepped way out of my cozy, introverted comfort zone to talk about Back Home at Firefly Lake, as well as my writing life. Check out "7 Questions with an Author" on YouTube here.
And find out more about Back Home at Firefly Lake, including buy links, on my website.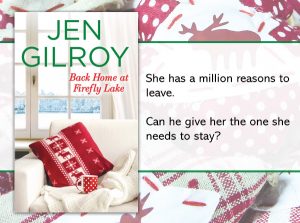 Keep in touch
Make sure you follow my Facebook author page for news of other book giveaways, as well as upcoming guest posts including a piece about my favourite winter reads for Fresh Fiction.
(All quoted excerpts copyright © Back Home at Firefly Lake 2017 by Jen Gilroy)
*This giveaway is now closed & the winner has been notified (4 December 2017).