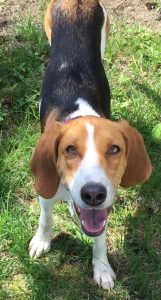 When I was living a life that didn't fit me, I thought about the one that would. The life I then imagined was bracketed by what I called "the three p's" – porch, pooch and pickup truck. All three represented a more authentic way of living that was better aligned with the values I hold dear.  
I still don't have a pickup truck, but almost two years into my new life in small-town Canada, I have a house with not one but two porches and, if we're connected on Facebook or Twitter, you may know that I've also recently gained a pooch.
Since I grew up with a dog, I'm not quite a debut dog owner, but until Floppy Ears, a fourteen-month-old rescue Walker Hound-Beagle mix joined our lives, I'd forgotten how many life lessons our canine friends can teach us.
The world according to Floppy Ears…the top ten: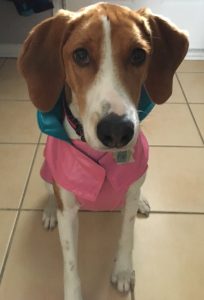 Stop and smell the roses (or if you're a hound, smell anything that takes your fancy). The olfactory world is rich and often overlooked.
New friends are everywhere and only a tail wag away.
Sometimes it's best to ignore small irritants. That Chihuahua may be annoying, but in the broad spectrum of life he's not worth getting worked up over.
There's always more than one way to solve a problem. If your seatbelt prevents you from sticking your nose out of the half-open car window, turn around. The wind also feels fabulous on the end of your tail.
Naps give you extra energy to make the most of your day.
Tell others what you need, but in appropriate ways. Clinking your empty water bowl against your food dish to tell a busy author you're thirsty is good. Pulling books off shelves because you're bored is not.
Have fun with fashion and accessorize. Whether it's a pink collar so others know you're a girl, or a cute raincoat to keep you dry in wet weather, your clothes say a lot about who you are. 
Walking aids fitness, stress reduction and weight management. Two brisk walks a day help keep the doctor (or vet) away.
People will judge you by your appearance (especially if you have a gorgeous tri-colour coat and soulful brown eyes), but pretty is as pretty does. Good manners and consideration for others leave a more positive lasting impression than looks alone.
Don't take yourself too seriously and make time for play every day.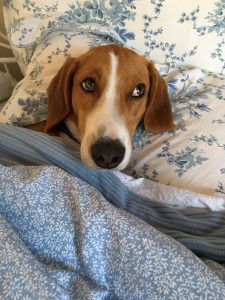 Just as we can choose the lives we want, we can also choose our families. I'm grateful that mine has expanded to include Floppy Ears—writing buddy, snuggle bug and personal trainer in one.
Now if only that silver pickup truck would roll into my driveway sometime soon. Floppy Ears would love riding in a truck, don't you think?
(For regular Floppy Ears pics and news, follow her on Instagram, an account managed by English Rose).