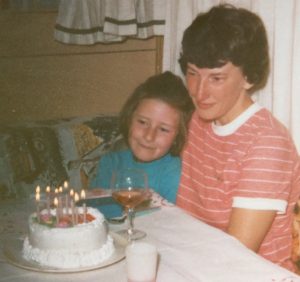 Sunday, November 20th is World Day of Remembrance for Road Traffic Victims. It's a day I've marked since my mother was killed crossing a street while returning home from an ordinary, afternoon shopping trip.
Road death is sudden, shocking, and it forever changes the lives of loved ones left behind. Although the loss of my mom in such a terrible way is something I have to learn to live with, it isn't something I'll ever "get over."
When my first published book, THE COTTAGE AT FIREFLY LAKE, releases on January 31, 2017, it's dedicated to "my dear mom, in loving memory." Almost five years after her death, that dedication celebrates her life and what she means to me.
The writer I am owes much to my mother's influence. She shared her love of reading with me and, as a small-town girl, she nurtured my affection for the kind of places where my stories are set—small communities where neighborliness is a way of life and family ties are strong. And at a time of often seismic upheaval in the world at large, they're also places where change comes more slowly.
Sean, the hero of THE COTTAGE AT FIREFLY LAKE, is rooted in the small, Vermont town where he grew up. As he says to the heroine, Charlie, in Chapter One:
"Everywhere else, life has sped up, everybody rushing without knowing what they're rushing to or why. Here things stay pretty much the same. At least the same in the ways that matter."
I spent many happy childhood summers in the small town where my mom grew up; a town much like Firefly Lake. It's a place steeped in the sense of caring and connectedness that represents what's best about community, and it's where she now rests in an old rural cemetery beside my dad and several generations of her family.
When I visit my mom for a day of remembrance I wish I didn't have to mark, I'll take an advance reading copy (ARC) of THE COTTAGE AT FIREFLY LAKE with me. Mom always believed I'd be a published author, and I want to share this milestone with the woman who gave me life and so much more.  
Giveaway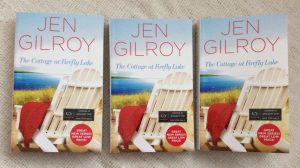 Would you like to read a pre-release, ARC (uncorrected page proofs copy) of THE COTTAGE AT FIREFLY LAKE? I have three signed paperbacks to give away. To be eligible to win one, all you have to do is subscribe to my new, quarterly, author newsletter here. I'll pick three subscriber names at random on Tuesday, November 22 and announce winners that day. 
My fortnightly blog posts are musings about life and sometimes writing. My author newsletter (from January 2017) will keep you updated on my book releases, including exclusive subscriber content, contests, and giveaways.
Terms & conditions
This giveaway is open internationally.
It runs until midnight ET on Monday, November 21, 2016.