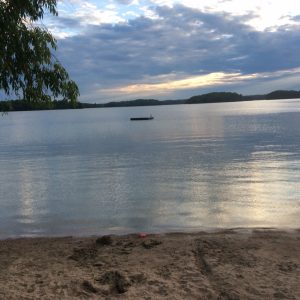 The summer of 2016 has been my first full summer in Canada in almost sixteen years. When I lived in England, I often thought about Canadian summers with wistfulness.
As gusts of cold wind buffeted my umbrella, and I sloshed through puddles on my way to my day job, I remembered halcyon summer days of golden sunshine punctuated by peaceful sunsets.
When I sat at my desk huddled by a portable heater and contemplated the leaden skies outside the office window, I longed for beaches where sun-warmed sand tickled my toes.
Although we had many happy family holidays in the UK, they weren't summer vacations as I remembered them. On one memorable trip to the Lake District, a place which inspired the Romantic poets, Beatrix Potter and many more great British writers and artists, it rained every day. For seven days straight.
Several years later, I wore three layers of clothing and clasped a hot flask of tea in my icy fingers as English Rose built sand castles on a blustery North Sea beach.
By contrast, this summer in eastern Ontario brought all the sunshine and warmth I'd craved for so many years. Day after day, the sun rose and set hours later with only high, puffy clouds in sight. The nearby beach and picnics beckoned.
But it was also humid. And so hot English Rose and I were forced indoors to air-conditioned comfort.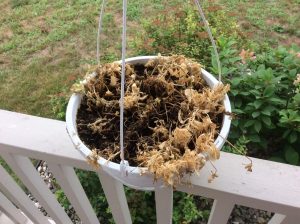 The drought-stricken flowers in my hanging baskets shriveled and died. The front lawn turned an unpleasant shade of brown. Each week at church, we prayed for rain.
I thought longingly of cool English breezes and lush gardens nurtured by gentle rain.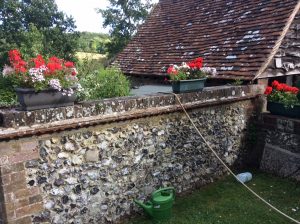 As the backs of my bare legs stuck to every surface with which they came into contact, even the British chill I'd once bemoaned seemed more minor irritation than affliction.
As some of you know, I've had an unexpected visit to England this week. I've used my trusty Marks & Spencer umbrella for the first time in several months. And, despite a Spanish plume which has brought warmer weather than usual, my English cardigans have come out of their Canadian summer hibernation in response to temperatures that have often been cool and, from my new perspective, refreshing.
During my years in the UK, I should have been careful what I wished for. But the more things change, the more they also stay the same.
In England as in Canada, the main topic of conversation during these last, fading days of summer has been the weather. Cultural and geographic differences aside, it seems we can always find something to say about the sky, blue, grey or something in between.