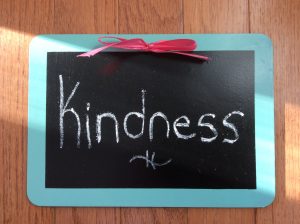 As many of you know, "kindness" is my word for 2017. All too often, though, it can seem we're living in a world where kindness is in short supply.
The global news headlines are almost unceasingly grim. My social media feeds catalogue ills large and small. And in my own life and family, worries and problems are as thick as the weeds clogging my back garden after this rain-soaked summer.
Even when I stepped out of my small-town church after service last Sunday, it was into conflict and cacophony. Three dogs had met on the sidewalk at the bottom of the church steps. Amidst the snarls, barks and growls (and rising voices of owners trying to calm their animals), all I could think of was that the scene was somehow symbolic of both my life and the present world stage.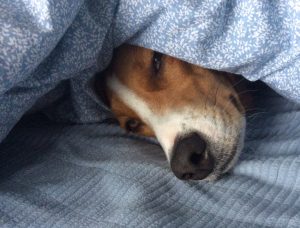 I wanted to scurry home, climb into bed and pull the covers up to my chin. Yet, I couldn't. Whether I wanted to or not, I had to "adult." And when I logged into my Twitter account last Sunday afternoon, it was as if the universe was sending me a message.
My timeline was topped by tweets about kindness and the power of small actions to spark large and impactful changes. A bit further down, I found links to several heartwarming stories—just what I needed to help restore my bruised faith in humanity.
In 140 characters, I was reminded that we all have choices. In choosing kindness as my word for this year, I'd made a conscious decision to look for opportunities to be kind, as well as acknowledge such actions in others.
There are many things in my life, as well as the world at large, over which I have no control. What I can control, though, is how I respond to those forces, and how I act when faced with challenges and moral questions large and small.
So, for the remainder of 2017, I need to take more opportunities to stop and note how kindness makes the world—and my life—better. Instead of focusing on what is wrong, I'm making a dedicated effort to focus on what is right. 
From an unexpected message of cheer from a friend, to a good news story (like this one about a woman whose wedding was cancelled and who is giving away her unused designer dress to a bride in need), noting daily instances of kindness is a powerful tool.  
A late family friend, who was one of the kindest people I've ever known, always said: "Don't thank me for a kindness, just pass kindness on." In fiction, she helped inspire the character of Liz Carmichael in Summer on Firefly Lake (who also appears in the third book of the series, Back Home at Firefly Lake, out in December). In life, her words have come back to me this week like a touchstone.
As for the dogs at the bottom of the church steps? Calm was soon restored, dog treats were shared, and dogs and owners continued civilly down the street.
In that experience too is a lesson for life and living it.