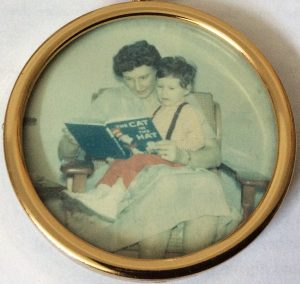 My mom loved books and reading. I have cherished childhood memories of not only time spent reading together, but also going to bookstores with her on Saturday afternoons, my carefully saved allowance tucked into a pink purse in the depths of her bag.
Those book-buying excursions gave me some of my first lessons in budgeting and fiscal responsibility, while also introducing me to the world of working writers—people who wrote stories in exchange for my hard-earned money and inhabited a mysterious world far removed from the one I then knew.
With the release of The Cottage at Firefly Lake ten days ago, I've become one of those writers and the writing world, much less mysterious than it once was, is my happy new reality. In this time of "firsts" and joyous moments large and small, one of the most momentous has been seeing my book on store shelves "out in the wild."
First came pictures. Tech Guy and my literary agent tracked it down in Toronto and Virginia. A  friend spotted it while waiting for a a bus on Vancouver Island.
And then I saw it myself. I was in Ottawa, the Canadian city closest to my small town, for a hospital appointment with English Rose. After her appointment, we detoured to a big, Chapters bookstore. At first, I couldn't find the romance section so a helpful staff member guided me to it. By a quirk of fate, he stopped in front of the "G" authors where The Cottage at Firefly Lake was displayed mid-shelf and cover out.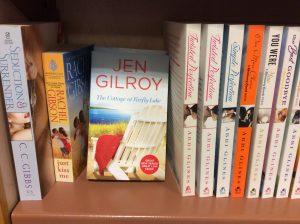 "That's my book," I said.
Mindful of English Rose and teen girl embarrassment, I refrained from squealing and doing an impromptu happy dance in the middle of the aisle.
"Your book?"
"I wrote it," I said.
He hesitated, his expression puzzled.
Would I have to flip to the inside back cover to show my author photo? I had better hair in that photo.
Then he smiled. "Sorry, it took me a second to put the pieces together."
Although I didn't say so, I understood. As I looked at my book on the shelf alongside books by authors I admire, I hadn't put those pieces together either.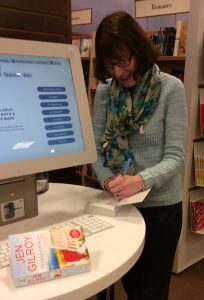 Would you like to sign our copies of your book?" he asked. "I can also add stickers with 'author signed' to the cover."
I did.
He did.
And like Anne of Green Gables in one of those books I saved up to buy so long ago, it was "an epoch in my life."
As I left the store and pulled my woolly winter hat onto my head to cover my non-camera-ready hair, my happy excitement was mixed with another emotion. Sadness. On my best bookstore visit ever, my mom hadn't been there to share it with me.
But perhaps she was. And perhaps she did a happy dance of her own in a pair of those fabulous shoes we also sometimes shopped for on Saturday afternoons.
And perhaps in the middle of that big store full of books, ending up in front of the shelf with my book on it wasn't such a quirk of fate after all.
From up there in heaven, my mom may well have given that Chapters staff member a gentle celestial nudge. It was a special day. And she was a special mom.