I've never owned a pair of Jimmy Choo sneakers. At prices topping US$500.00 I'm not likely to either. I'm also not likely to own an exquisite Chanel handbag of the kind I saw a white-gloved sales assistant sell in bulk to a trio of Chinese businessmen at Hong Kong's international airport.
As an author, though, I can give such items to my heroines to show who they are, and how they, and what they value, changes through the course of a story.
As a little girl, dressing my dolls and giving them imaginary lives and adventures, were some of my first forays into storytelling. I also can't remember a time when I didn't love clothes and wasn't particular about what I wore. 
When I got older, I earned money at part-time jobs and used some of it to try out new looks and identities. After English Rose came along, dressing her was like dressing a real-live doll…until she turned two and developed her own, clearly-defined fashion sensibilities!
As some of you know, I was in England last week to visit Tech Guy and, at the same time, help him sort through items in our English home.
Some of those items were my clothes. As I have both a Midwest practicality (if it still fits it must be kept), and innate reluctance to discard cherished items, there was not only half a wardrobe full of garments, but several storage boxes too.
There were clothes I'd worn during my years in the corporate world, a phalanx of dark suits clustered on the end of the rail like lonely ghosts. There were clothes in delicate lace, sequins and shimmering fabrics I'd worn to cocktail parties, weddings and other events. And clothes I'd worn on holiday across Europe.
Few were clothes I'd wear in my new life in a small Canadian town, as a working-from-home author and mum.
So out went the suits and some of the dresses, although I kept those which could transition into my author life for future writing events. And out went the clothes which I either didn't feel good in, or which sparked unhappy memories.
When I looked at the empty hangers, I had a fleeting pang of loss. However, packing those bags for charity reminded me of the different women I've been, and the experiences that have made me happy with who and where I am now, and influenced the writer I've become.
And on my second last day in England, I went to one of my favourite shops and bought a few new clothes for my new life and adventures that await.
As for the shoes that went with those old clothes? I couldn't part with them quite yet, so Tech Guy is bringing several pairs with him on his next trip to Canada. We're going to a wedding this summer, and my four-inch purple heels will go perfectly with the cute little fascinator I also didn't have space to bring.
For Tech Guy's sake, I hope his suitcase isn't opened at customs!
Snapshots from my life in clothes…
As a Romance Writers of America, Golden Heart® finalist, New York City, July 2015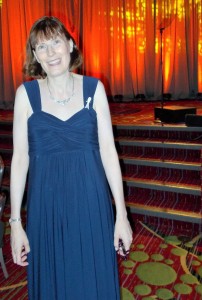 And when I was almost four, wearing my new spring coat. Accessories were clearly important to me even then.